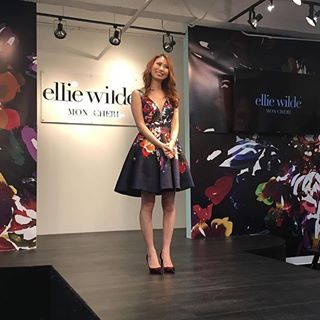 Take a walk on the Wilde side for prom 2017 in an Ellie Wilde for Mon Cheri prom dress. This young and new designer is taking the fashion world by storm with her bold floral print dresses, glamorous mermaid gowns, trendy high-low and two-piece styles, flirty short dresses, vintage inspired tea length styles and more! Making its official debut in Atlanta at the World of Prom Market in August of 2016, Ellie Wilde prom dresses are designed for those looking for something simple and timeless as well as the trendy fashionista who wishes to make a statement. In addition to prom, Ellie Wilde's designs are also perfect for pageants, homecoming, cocktail parties, military ball, and any other formal events. Many of these show-stopping gowns are are available in sizes 00-24 and in several striking color options and print variations. Make your prom night one to remember and turn heads in a dress from a brand new collection with designs that are beyond your wildest dreams. New images of the collection are already up on www.frenchnovelty.com. Take a look and order the dress of your dreams, because this new collection is sure to sell out!
This 2-piece style features an off-the-shoulder lace crop top and an a-line full skirt with Ellie Wilde's signature floral print. You can find this signature print on several of her designs as well as ties for your prom date!
You will surely turn heads in this sleeveless tulle ballgown with its beautiful lace bodice and tiered-ruffle skirt. The dramatic layers of tulle and horsehair trim on the skirt, make this style both eye-catching and breathtaking.
As one of the most popular silhouettes from the past several prom seasons, Ellie Wilde's 2017 collection was not short on gorgeous mermaid style gowns! The sparkle sequin detail on the bodice of this gown in addition to the corkscrew ruffled skirt make this style both timeless and unique.
Ellie Wilde also included a few short, cocktail dresses in her debut collection to give you a taste of whats to come possibly for a fall collection! Let your style show in this short and sassy jacquard dress and leave a lasting impression.